"Too many arts organizations underestimate the power of SEO to expand their reach. This course offers practical step-by-step methods to help search engines fall in love with your website!"
Michael Morreale
Instructor, Toronto ON
Course Details
The most comprehensive online course specifically for performing arts professionals like you.
Become an SEO pro and reach the audiences searching for you with the most comprehensive online course specifically for performing arts professionals like you.
Regardless of your existing skill level, this step-by-step, easy-to-follow course empowers you to master Search Engine Optimisation (SEO) at your own pace, on your own time. Uncover practical methods of attracting high-intent audiences, increasing ticket sales and donations, and boosting online visibility through effective SEO techniques tailored specifically for the arts.
Throughout the course, you'll gain actionable insights and practical tools to build a winning SEO strategy that works for your organization. Explore key concepts like how search engines work, keyword research, on-page optimization, and data-driven discoverability, then apply them to your organization right away. You'll receive hands-on templates, guides, and worksheets that simplify the process of creating and implementing your SEO strategy.
Don't miss this opportunity to boost your online presence and see your arts organization thrive. Register today and unlock the SEO potential of your arts website.
Free webinar: Four SEO Quick Wins to Improve Your Arts Website
Skills Covered
SEO fundamentals
Keyword research
On-page optimisation
SEO for events and performances
Building site authority
Local SEO
Who should take this course
Individuals responsible for performing arts websites and marketing
Non-profits looking to reach more ticket-buyers and donors
No previous SEO experience necessary!
Time commitment
~55 minutes of instruction + 3-4 hours of activities and worksheets
Register now
Ready to get started? Register for instant access.
Your Instructor
Michael Morreale
Instructor – Toronto, ON
Michael Morreale is a digital marketer, consultant and video producer with over a decade of experience in the performing arts. He has worked with high-profile organizations, including the CBC, Toronto Symphony Orchestra, Royal Conservatory, Orchestras Canada and The Banff Centre, and equally enjoys working with grassroots arts companies across Canada.
Michael's work has appeared in leading publications, such as The Guardian, Maclean's Magazine, The Globe and Mail and PBS. He brings a wealth of experience to his consulting work, having led successful digital transformation projects such as the launch of CBC Music online, project lead for TSO's $10 million Canada Mosaic project, and over a dozen Canada Council Digital Strategy Fund projects with Canadian non-profit arts organizations. In 2019, Michael led the development of ArtsBoost, an online learning platform aimed at equipping Canadian arts professionals with the skills and knowledge they need to succeed.
He brings a unique blend of marketing skills, technical expertise, and a performing background to his work, creating robust strategies for engaging audiences with digital content. Michael lives in Toronto and holds certifications in drone operations and Neapolitan pizza-making, reflecting his commitment to excellence and continuous learning.
Sounding Board
This instructor is available for 1x1 support through The Arts Firm's Sounding Board. Book your personalized session and receive expert advice to help you get clarity and achieve your goals. Schedule a confidential online voice or video call today.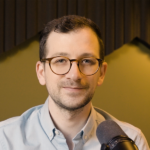 Michael Morreale
Instructor – Toronto, ON
Course Topics
SEO Fundamentals

Understand how search engines serve content to your audiences

Audit and improve your website's SEO

Evaluate your current site and identify areas for improvement
Develop your SEO strategy

Apply learnings and build an actionable SEO strategy that works for you

Practical SEO Tools

A curated list of free tools and resources you can use right away
Download
Course Syllabus
Sign up to receive a detailed PDF course syllabus and be notified with course news and updates.